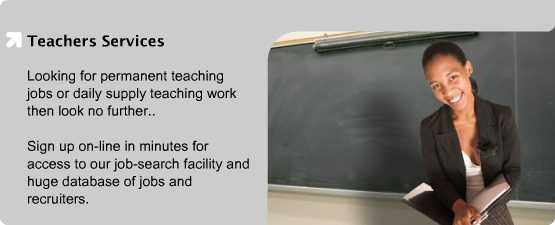 Daily Supply Rates of £145 per day
Unlike some agencies we are more than happy for both teachers and schools to know about our charging policies. Our current charge to schools is £170 per day of which £145 per day is paid direct to the teacher.
Registering with teachers-direct could not be simpler and gives you access to our state of the art job-matching system. Once you have told us a little bit about your location, qualifications and the type of work you are looking for we can begin matching you with some of the 25,000 UK schools in our database.
At teachers-direct we recognise that everyone's career needs are different. This is why we allow you to chose when and where you work. Just let us know whether you are looking for a permanent teaching post or just a few days supply and our matching system automatically keeps you posted about the jobs that are right for you!
The teachers-direct System
The teachers-direct system uses cutting edge technology to match the information you supply with the staffing requirements of our client schools. Our advanced geocoding system and online booking facility allow schools to perform day-to-day tasks, such as shortlisting candidates and booking supply teachers, without the need to speak to consultants which drastically reduces our staffing costs and means more of your hard earned money ends up in your pocket! This also means that should you need to talk ot us then we are able to give you the help you need more quickly and with less fuss.
Continuing Professional Development (CPD)
Many supply teachers often complain of becoming de-skilled after they have been supply teaching for a while. This is because schools are under no obligation to provide in-service training to teachers who do not have a permanent contract. At teachers-direct we believe it is in everyone's interest to make sure our teachers' are kept up to date with the latest developments in educational theory and practice. We ensure this by providing each teacher with:
1 day of paid inset on approved courses per term.
Regular in-class observation by a trained consultant.
Professional careers guidance.
Free Resources
As well as recruitment, teachers-direct is continually developing high quality free resources to help ALL teachers get the most from their lessons. Although our resources are particularly suited to supply teachers we hope that all teachers can make use of some of the activities, worksheets and lesson plans in the
Free Resources
section of our website. If you have a resource or web link that you'd like to share then please visit the
Free Web Resources
section of our website.
CRB and List 99 Checks
In line with DfE requirements teachers-direct is required to perform full backgroud and criminal record checks before employing any teacher. For more information on the checks we carry out please see the
CRB Information
section of wour website.